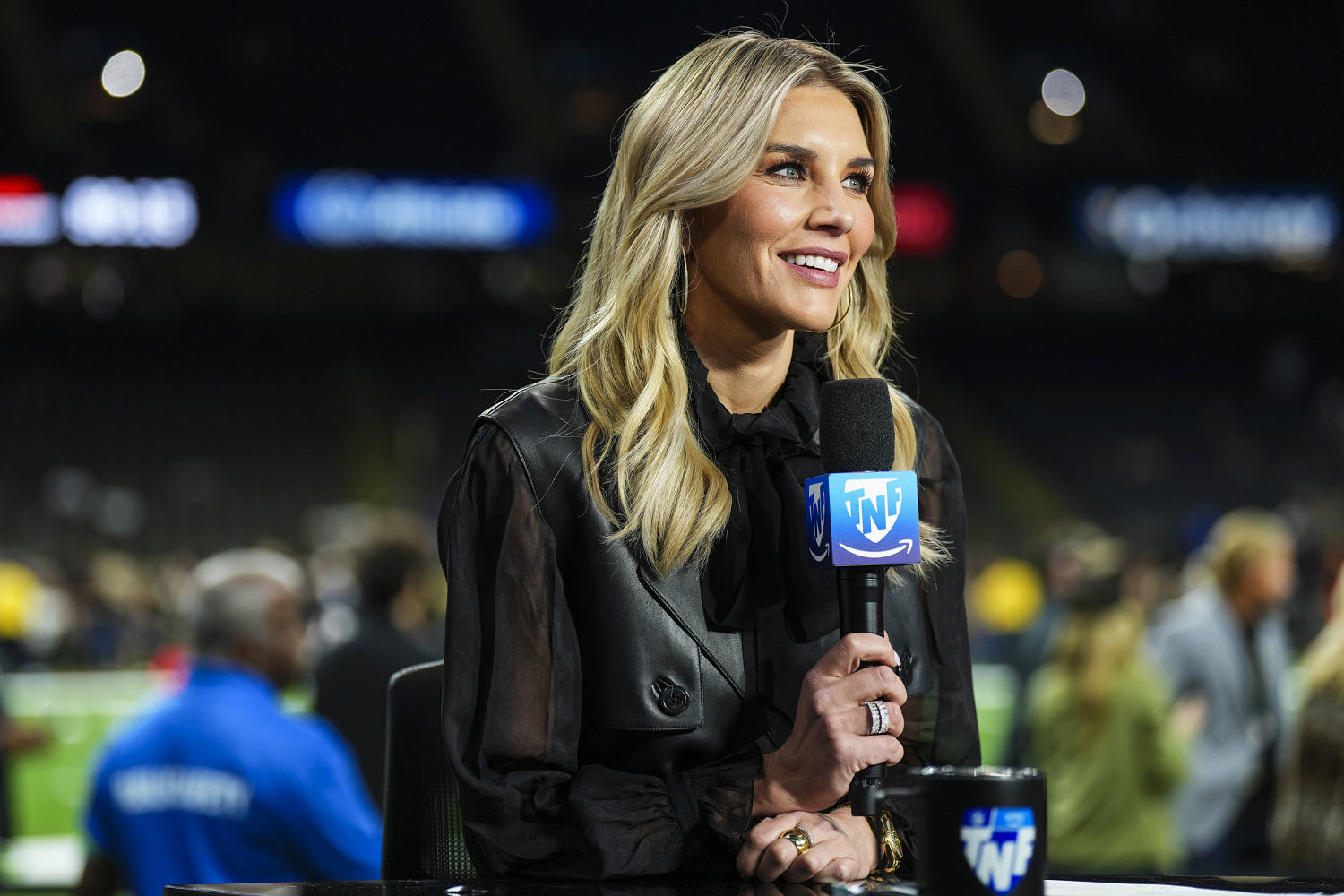 Sports journalist Charissa Thompson caused a stir after saying she used to make up coaches' comments when she worked as an NFL reporter, but later walked back her statement, claiming she never "lied" or did anything "unethical."
Thompson, who now works for Fox Sports and Amazon Prime's "Thursday Night Football," shared the comments on Wednesday's episode of the show. "Sorry for my opinion" podcast.
"I've said this before, so I haven't been fired for saying it, but I'll say it again. Sometimes I would make up the report because A, the coach, didn't come out at halftime or it was too late and I was like, "I didn't want to ruin the report," so I said, "Me." I'm just going to make this up,'" the 41-year-old said.
Thompson noted that she felt comfortable doing so because her comments weren't too far off from what a coach might actually say in an interview.
"First of all, no coach is going to get mad if I say, 'Hey, we've got to stop getting hurt, we've got to be better on third down, we've got to stop turning the ball over and do a better job getting off the ball.' field.' "They are not going to correct me on that," he explained. "So I think okay, I'm just going to write the report."
NBC News has reached out to Thompson, Fox and Amazon for comment.
Thompson's comments quickly sparked backlash among his peers in his field.
Fox Sports host Laura Okmin, a colleague of Thompson, tweeted Thursday: "Devastated with the texts I'm getting asking if this is okay. No never."
"THE privilege of playing a supporting role is being the only person in the world who has the opportunity to ask the coaches what is happening at that moment. "I can't express the amount of time it takes to build that trust," she added.
CBS Sports host Tracy Wolfson called Thompson's podcast comments "absolutely not okay, not the norm and disturbing on so many levels."
"I take my job very seriously, I take responsibility for everything I say, I build trust with the coaches and I never invent anything. I know my fellow journalists do the same thing," Wolfson said. tweeted.
ESPN host Molly McGrath tweeted a warning to young journalists, saying: "This is neither normal nor ethical. "Coaches and players trust us with confidential information, and if they know that you are dishonest and do not take your role seriously, you have lost all trust and credibility."
Kathryn Tappen of NBC Sports denounced Thompson's comments as "deplorable," Meanwhile, Emmy-winning sports journalist Andrea Kremer tweeted"I am sickened by the insulting mockery made of secondary journalism, a challenging role played primarily by women, most of whom understand and respect the values ​​of journalism and are integral and trusted members of a broadcast team."
On X, former NFL network host Lindsay Rhodes responded to a tweet asking what Thompson was supposed to do if a coach declined to comment and she had yet to speak on the broadcast.
Rhodes responded: "She tells the producer, 'he didn't stop' and they don't go to the reporter to get an update she doesn't have. Or she tells that to the audience in her report. Or she herself observes things and reports them without deceiving anyone into believing that they come from someone who is not."
Thompson addressed the controversy on Friday, writing about instagram"I have never lied about anything or been unethical during my time as a sports broadcaster."
"I have a responsibility to myself and my employers to clarify what is reported. When I was on a podcast this week, I said I would make up reports early in my career when I was working as a sideline reporter before transitioning to my current anchor role . ," she said. "Working in the media, I understand how important words are and I chose the wrong words to describe the situation. I'm sorry."
He explained that if a coach didn't provide information for his reports, "I would use the information I learned and saw during the first half to create my report."
"For example, if a team went 0 for 7 on third down, that would clearly be an area they needed to improve in the second half. In these cases I never attributed anything I said to a player or coach," Thompson wrote. .
He concluded by saying, "I have nothing but respect for side reporting and the tireless work they do behind the scenes and in the field."