GAZA CITY, Gaza Strip — On the eastern edge of Gaza City, hundreds of families march along the Salah al-Din road as the sun begins to set Wednesday afternoon. Many carry babies and small children, while others push elderly people in wheelchairs. Some wave large white flags, while everyone carries the few possessions they can on a journey with no clear end in sight.
"There are tens of thousands of people leaving their neighborhoods in Gaza and passing through here heading south," said Major Shraga of the Jerusalem Brigade, whose last name the Israel Defense Forces asked not to be revealed for security reasons. .
NBC News was granted access to Gaza City on Wednesday to see the main evacuation route that thousands of Palestinians have taken to move south amid Israel's offensive after the Hamas attack on October 7. For operational security reasons necessary to accompany Israeli troops to Gaza, NBC News agreed to share raw videos with the IDF and blur the faces of the young soldiers. He did not allow the IDF to see any full articles.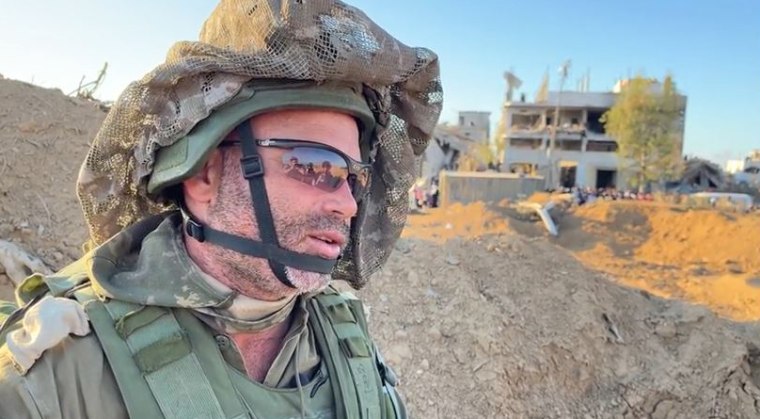 Israel has said its evacuation routes from northern Gaza are designed to bring Palestinian civilians to safety, which it says is proof of its commitment to protecting the innocent even as it attacks Hamas. More than 11,200 people have been killed during the Israeli offensive in Gaza since the Hamas attack on Israel, according to the Hamas-controlled Gaza Health Ministry.
But for many of the more than 1.6 million people who, according to the United Nations agency for Palestinian refugees, UNRWA, have already been displaced in Gaza since the conflict began, the route feels like a forced exodus.
Some who have traveled from north to south have described horrors along the way, such as walking past corpses and dismembered body parts and hearing the sounds of intense war nearby. UNRWA has said many are "exhausted and dehydrated" after having made the trip "amid unusually high temperatures."
Tarik Yaghi, who said he was studying IT at the Islamic University of Gaza before the conflict began, recently told NBC News about his journey fleeing northern Gaza to the south.
"The trip wasn't even a trip," Yaghi, 23, said. "It was basically torture." He said he saw tanks and "bodies thrown left and right," including "dead children."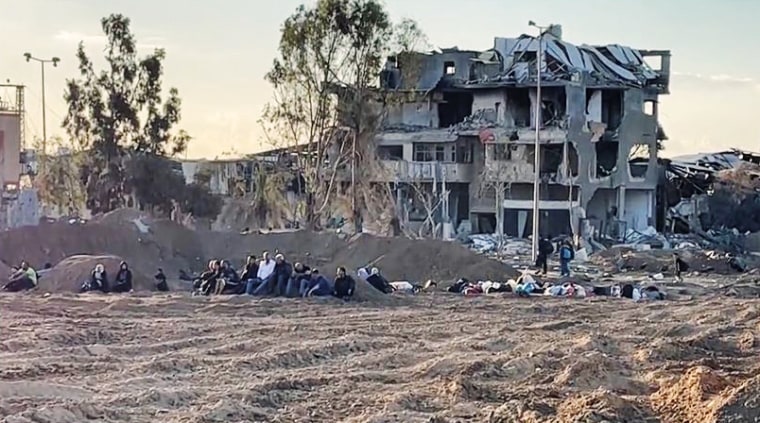 When asked how he feels seeing children among those fleeing, the elder Shraga said he "sometimes thinks about it."
"But I'm also very proud of what we're doing. "I am very proud of these innocent children, instead of being in their homes, without any protection, without safe homes, then they have access to leave the town," he said.
"I know when you look around, it seems like there was a lot of fighting, there was, but the responsibility for that lies with Hamas, which brought hell to our homes and brought us in full force here," he said. in reference to the Hamas attack on October 7, which Israeli officials said killed 1,200 people and left dozens hostage.
As masses of people flee northern Gaza, Israeli troops from the Jerusalem Brigade have been trying to locate Hamas hostages.
Shouting into megaphones in Hebrew, the soldiers call out to the crowd, asking if there are Israeli hostages among them and telling them to wave their arms and shout if they are being smuggled into the south.
"We haven't seen any of the hostages yet, but I really hope that at any moment we can get the hostages out," Major Shraga said, adding that it was "heartbreaking" to hear the soldiers scream for any sign of them.
He also said the military was screening people as they walked along the evacuation route, but declined to elaborate on the technologies being used. "We're looking for specific people," she said.
Major Shraga said he understood that for many Palestinians in Gaza who have lost loved ones, their homes and the lives they once knew, Israeli forces will be seen as the reason for their suffering.
"Hopefully, with a different leadership than Hamas, these Palestinians here could have a much better life, which is what we hope," he said.
"I'm pretty sure that once we're done with our job of totally eliminating Hamas, then these people here, those who want to live peaceful and productive lives, will be able to come here and prosper alongside us," he said. .
When asked if Israel could guarantee that displaced Palestinians will be able to return to their homes one day, IDF Maj. Doron Spielman said: "I think that will really be in the hands of many different actors, and one of the main ones will be Hamas. ".
Raf Sánchez reported from Gaza City and Chantal Da Silva from Tel Aviv.
Source link