November 15, 2023
4 minimum reading
Most hospitals typically test people for drugs that caused overdoses 15 to 20 years ago. We need a national system of expanded testing to help patients get the treatment they need today.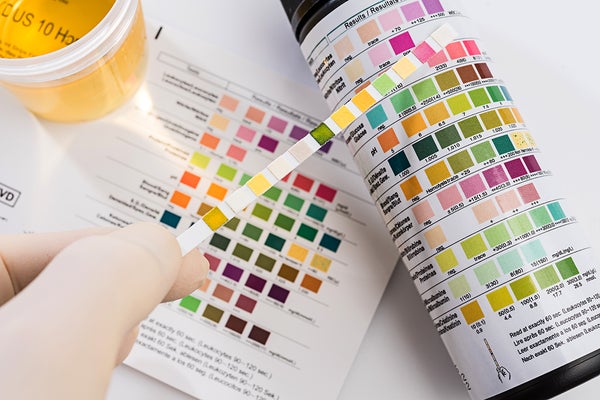 Hospitals link people to treatment at the time of greatest need. That includes drug overdoses, which are now kill more than 100,000 people in the United States every year.
However, standard urine tests in hospitals often fail to detect fentanyl, which is consumed today the principal cause of fatal overdoses or other "synthetic" substances. Expanded urine tests that could detect them can be time-consuming and cost-prohibitive.
But if hospital drug testing fails to detect these drugs, people may not receive a full diagnosis. Without a positive urine test for opioids, they may not be accepted into an opioid treatment program. Or your treatment may not be covered by insurance. Without clear identification of all substances involved in their visit, patients are less likely to stay in treatment, even if they are accepted.
However, most hospitals are still testing for the drugs that fueled previous drug crises, such as heroin and cocaine, and have little concrete data on the drugs their patients are now exposed to. In fact, in the second quarter of 2022, only 5 percent of hospitals included fentanyl in their standard drug screening. A year later, this percentage had only increased to approximately 14 percentwhile undergoing opioid testing (natural opioids like heroin) remained at around 50 percent. A decade after a fentanyl overdose crisis that has claimed over a million American lives.
The overdose crisis is constantly changing and users are often unaware of the drugs to which they have been exposed. Changes in medication composition may alter symptoms seen in emergency departments and may change patients' treatment needs. Drug use and overdoses are often highly individualized. Therefore, American hospitals must have access to expanded urinalysis to understand all the medications their patients have been exposed to.
The Center for Substance Use, Addictions and Health Research (CESAR) at the University of Maryland, where we work, has been testing a new approach, the Emergency Department Drug Monitoring (EDDS) system, with federal and state financing. We currently offer 50 hospitals in the US the opportunity to submit anonymous urine samples at no cost to the hospitals for expanded urinalysis. We look for many more substances than local hospitals can routinely detect; We use the results to identify patients' exposure to specific medications and to track new patterns of medication use that may be emerging in the population.
Our program could serve as the first phase of a national system to inform hospitals about the medications their patients have been exposed to, as well as the role of multiple medications, or use of polysubstances, in overdose. Hospitals have already used our findings to update their urine drug testing panels. For example, the EDDS has documented patient exposure to medications such as fentanyl and xylazine at two US hospitals in Baltimore. added fentanyl to their standard drug testing in 2019 after participating in EDDS and have since found that fentanyl is the most frequently detected drug in 70 percent or more of specimens tested every year.
Additionally, California and Maryland have passed laws requiring all of their hospitals to include fentanyl in urine drug tests to diagnose patients' drug exposure. This is an important step, but as we emphasized above, illicit drugs are constantly changing. The EDDS was, for example, able to detect the animal tranquilizer xylazine in urine samples from hospitals in Florida, Georgia, South Carolina, Tennessee and Maryland. The drug most likely to be found in addition to xylazine was fentanyl, detected in 85 percent xylazine-positive samples. Xylazine can worsen the life-threatening effects of opioids by causing dangerously slow breathing and low blood pressure.
EDDS researchers believe it is essential to launch a truly nationwide system to provide hospitals with expanded urine testing at regular intervals and support doctors interested in conducting deeper research. We now have a proven method to do this. More states should follow the lead of California and Maryland and require all hospitals to include fentanyl in diagnostic drug tests. New drugs such as xylazine should also be added to urine drug screens in states where they are identified as part of the illicit drug market.
Most samples positive for drugs such as fentanyl and xylazine are also positive for at least one other drug in standard hospital urine tests. While these results may provide adequate information for physicians to treat the immediate medical condition, they do not guarantee that hospitals will be able to link patients with the substance use treatment they need to start a successful recovery. The EDDS system has laid the foundation for a national system, but there is still much work to do.
With almost 300 Americans a day dying from overdose and non-fatal opioid overdose occurs approximately every three minutes, It is imperative that the federal government fully fund a collaborative system with hospitals to conduct expanded urinalysis. A centralized system like this can regularly collect information on medication use that can then be disseminated in a practical and useful way, and support working with local doctors to conduct deeper research, as well as inform health policy. Other tools, such as urine test strips for xylazine and fentanyl, could also support a cost-effective approach to expanding hospital testing capabilities and monitoring trends in drug use.
Without these types of resources, we will always be playing catch-up, struggling to identify emerging drugs and keep up with the illicit drug market. And patients will continue to miss opportunities for treatment and recovery.
This is an article of opinion and analysis, and the opinions expressed by the author(s) are not necessarily those of American scientist.
The views presented here are those of the authors and do not necessarily represent the official views of the CESAR funding agencies, any other federal or Maryland state agency, or participating hospitals.